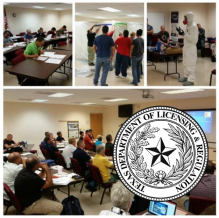 This Texas CMR course meets the 40 hour requirement for the TDLR licensure course.  It is the initial course for the remediation contractor. 
The 5 day (40 Hour) Texas Mold Remediation Contractor (TXMRC) course is designed to provide Texas mold remediation contractors, from a building science viewpoint, the necessary concepts, knowledge, hands-on training and techniques to understand the health issues connected to mold, seeing mold under the umbrella of indoor air quality, understand the assessment process with pre-, interim, and pre-sampling techniques, how to properly build containment, create and maintain negative pressure with fresh air makeup, utilize the newest PRV24K technology and perform mold remediation in microbial contaminated properties in accordance with the IICRC Standard of Care and the NORMI Professional Practices (best practices for the mold industry).  Tex. Admin. Code § 78.58
Once the student has attended the class, the student will sit for a 100 question exam and be qualified to apply for TDLR licensure and NORMI CMR Certification.   
* * * * View Schedule & Register * * * *
ONSITE COURSES
---
LIVE ONLINE COURSES
Topics to Be Covered
Five (5) Day Notification
OSHA Frontline Cleaning
Environmental Health & Safety
Assessment Process and PRE/PRV Guidelines
S-500. S-520 and NORMI Professional Practices
Hazcom and Remediation Techniques
Antimicrobials/Chemicals
State of Texas TDLR requirements
IAQ (indoor air quality) Solutions
Preventative Maintenance
Class Flyer
PDF Texas Training Flyer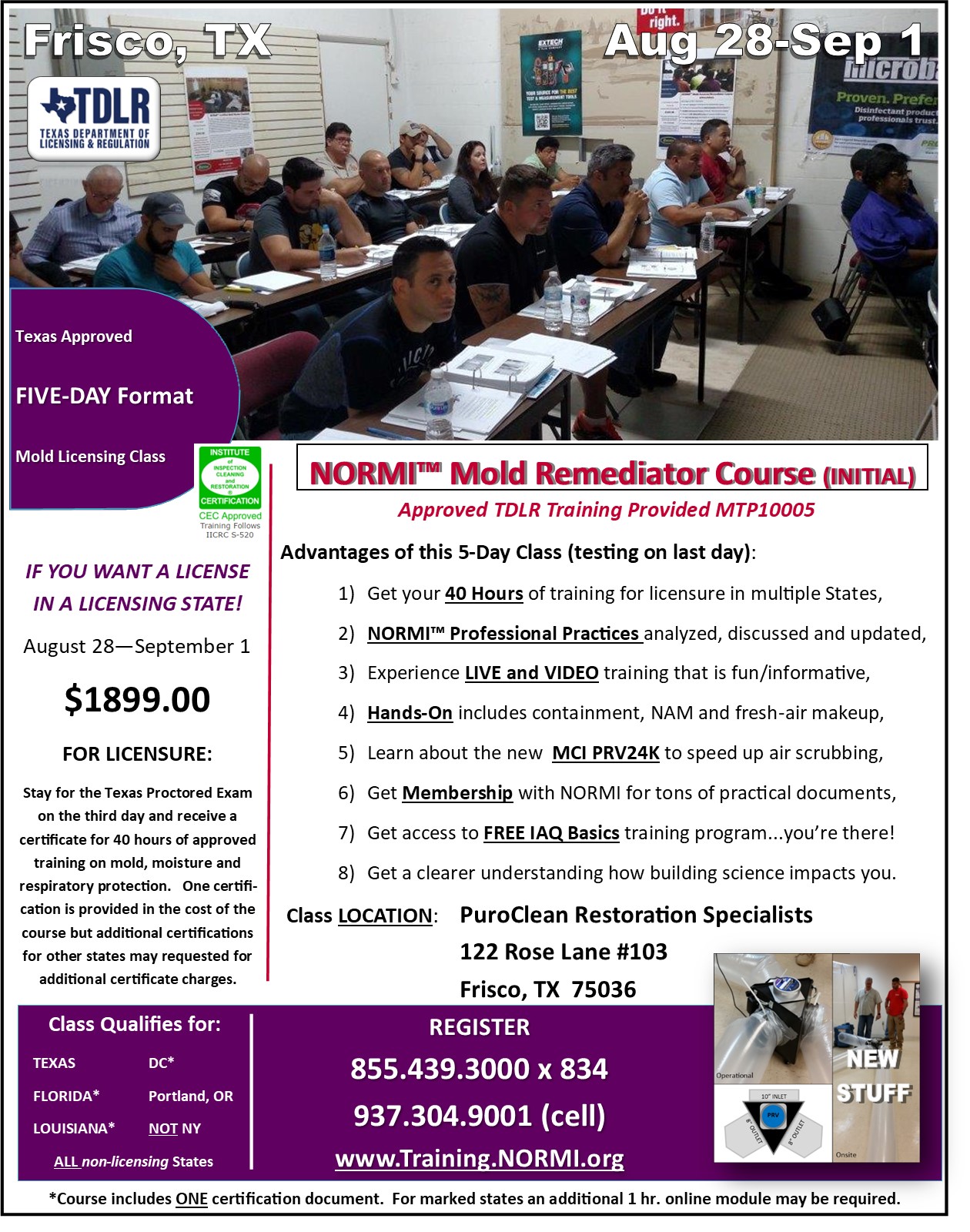 Class Schedule
All topics will be presented using a lecture teaching method, unless otherwise indicated with an asterisk (*), which indicates a Hands-on Training Segment.
Each day, classes will run from 8:00-5:00. Each day will include two 15-minute breaks and a 30-minute lunch break.
| | | |
| --- | --- | --- |
| Day ONE | Hours | Module |
| Introduction | 0.75 | 1 |
| Mold & Media | 1.00 | 2 |
| Mold: Basics | 1.00 | 2 |
| Mold: Sources & Condition | 1.00 | 2 |
| | | |
| LUNCH | | |
| | | |
| Potential Health Concerns | 0.75 | 3 |
| Regulations & Guidelines | 1.00 | 4 |
| The Texas Mold Law | 1.50 | 4 |
| Professional Practices | 0.75 | 5 |
| | | |
| Review Panel | 0.25 | |
| | | |
| --- | --- | --- |
| Day TWO | Hours | Module |
| Moisture Challenge | 1.50 | 6 |
| Moisture Movement | 1.50 | 6 |
| Building Science | 0.75 | 7 |
| | | |
| LUNCH | | |
| | | |
| Water Intrusion | 1.25 | 7 |
| HVAC Systems | 1.25 | 8 |
| Project Controls | 1.50 | 8 |
| | | |
| Review Panel | 0.25 | |
| | | |
| --- | --- | --- |
| Day THREE | Hours | Module |
| *Mold: Sampling Techniques | 1.75 | 9 |
| *Mold: Assessment Process | 2.00 | 9 |
| | | |
| LUNCH | | |
| | | |
| Protecting the Public | 0.50 | 10 |
| *Personal Protection Equipment | 0.50 | 11 |
| Hazard Communications | 1.00 | 11 |
| LockOut/TagOut | 1.00 | 11 |
| Heat Stress | 1.00 | 11 |
| | | |
| Review Panel | 0.25 | |
| | | |
| --- | --- | --- |
| Day FOUR | Hours | Module |
| OSHA | 0.75 | 11 |
| Work Area Prep | 1.00 | 12 |
| Overview Remediation | 1.00 | 12 |
| Remediation Work Plan (part 1) | 1.00 | 12 |
| | | |
| LUNCH | | |
| | | |
| Remediation Work Plan (part 2) | 1.00 | 12 |
| Remediation Process | 2.50 | 12 |
| PRV Guidelines | 0.50 | 13 |
| | | |
| Review Panel | 0.25 | |
| | | |
| --- | --- | --- |
| Day FIVE | Hours | Module |
| *Remediation Hands-On (part 1) | 3.75 | 12 |
| (build containment) | | 12 |
| (create negative pressure) | | 12 |
| | | |
| LUNCH | | |
| | | |
| *Remediation Hands-On (part 2) | 1.50 | 12 |
| (contain crawlspace) | | 12 |
| (teardown/cleanup PRV) | | 12 |
| Case Studies | 0.50 | |
| | | |
| Review Panel | 0.25 | |
| | | |
| Exams | 2.00 | |
Instructors
Doug Hoffman, Executive Director of NORMI
     Author "Mold Free Construction"
Lance Eisen, VP of Business Development
     Experienced Law Enforcement
Tim Butler, Senior Training