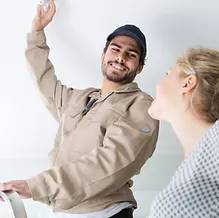 "Improving indoor air quality through assessing homes, defining problems, and providing solutions."
At the heart of the IAQ Assessment program is the concept of assessing the environment, defining the problems, and then matching solutions with the problems. All too often IAQ Solutions Providers ignore some of the most obvious contributing factors to poor indoor air quality because their primary goal is to sell their air purification equipment or their IAQ solution.
In this program, you will learn to assist the client to assess their own environment using a beautiful 32 page full-color assessment booklet. To confirm their suspicions about their indoor air quality, a prepaid EnviroScreening Kit is provided with two samples and a laboratory report. This report is a qualitative analysis (not quantitative) to help the client confirm for themselves the myriad of indoor air contaminants that may be lurking in their environment. Once the customer's suspicions are confirmed, you are trained to develop an IAQ Blueprint personalizing recommended solutions to that specific environment.
As an IAQ Professional, you know that every environment is unique and the only proper way to make recommendations on improving that environment is to offer solutions prioritized in three areas, 1) immediate corrective measures dealing with current needs, 2) installing IAQ management systems, and 3) supplemental implementation of the Sanitization Protocol. With this multi-strategic approach, IAQ will be improved and the client will know that their indoor air quality concerns are under "new management" and controlled.