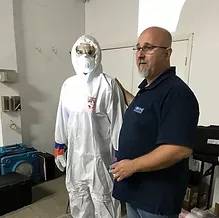 The CMW (NORMI™ Certified Mold Worker) is trained in the processes leading to and involved in the remediation of mold from indoor environments. Those who work in the mold industry should understand the basic mycology of mold, the seven components of indoor air quality, moisture control, sanitization techniques, remediation guidelines, "generally accepted practices" including personal protection equipment (PPE), hazards communication (HazCom), and OSHA safe workplace practices. This comprehensive two-day training gives the worker what he needs to protect himself and his employer from downside litigation that sometimes accompanies mold remediation.
"Our industry has been fraught with fraud and characterized by unprofessional, incompetent and unhealthy work practice. Times are rapidly changing as more and more states adopt regulations to protect the property owner and employee from slip-shod work. This course was designed to assist licensed Remediators in their selection of competent workers. NORMI Certified Mold Workers understand how their segment of a project fits into the overall scope of work and thus provide a much safer workplace lending confidence to the Remediators efforts to provide complete mold services to their clients."
D. Douglas Hoffman, Executive Director of NORMI
Did you know?
You can access the online CMW class for
FREE unlimited with a NORMI™ FIRM membership!
Click here to learn more.