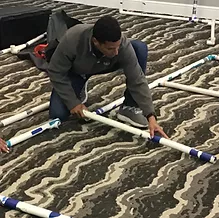 This NORMI™ Certified Mold Remediator course meets the licensing requirements for FL, DC, LA and all non-licensing states.  The initial training prepares the student to enter the industry as a remediation professional.
As a NORMI™ Certified Mold Remediator, you will have the initial training you need for ALL non-licensing states nationwide, as well as, FL, Louisiana, Washington, DC, and the City of Portland, OR. Though NORMI has been approved for Texas and New York, those licensing classes are longer and scheduled at a different time.
This course is designed to meet the criteria required by the States of Florida (Mold-Related Services Board of the DBPR), Louisiana, District of Columbia and Portland, OR for licensure as an IAQ/Mold Assessor. Students who attend this course receive written documentation evidencing specific training in "mold, moisture and respiratory protection". This course includes detailed discussions regarding the licensing laws and NORMI Professional Practices. This course will help prepare the student for the NORMI approved state examination, also required for licensure.
NOTE: The State of Louisiana requires an additional training module (available through NORMI) and the District of Columbia will take the NORMI Certification for licensure, however, each state requires a separate certificate so additional charges may be incurred. For clarification or more information, contact NORMI at 877.251.2296 or email support@normi.org
* * * * VIEW SCHEDULE & REGISTER * * * *
ONSITE COURSES
---
LIVE ONLINE COURSES
WHO SHOULD TAKE THIS CLASS?
Anyone interested in knowing more about indoor air quality and mold
Advanced training for Certified Mold Inspectors, Home Inspectors, General Contractors, Environmental Consultants and Industrial Hygienists
Architects who want to construct "mold-free" structures
Contractors interested in becoming licensed in Florida, Louisiana or District of Columbia.
Restoration contractors in non-licensing states who want more credibility with a national certification or state licensure.
Contractor employee toolbox training, even if licensure is not needed
NORMI CONCURRENT TRAINING CONCEPT
Our proprietary approach to industry training in this industry involves training aspiring Assessors and Remediators in the same classroom simultaneously because Assessors are responsible for writing remediation protocols and Remediators need to know how to do interim evaluations of their work in anticipation of a Post Remediation Verification (PRV) or Clearance. By training them together, each learns the correct language and develops a better understanding of the applicable law under which they should operate. Duties are clearly defined (to avoid the potential conflict of interest) and job descriptions are clarified. This approach also provides a unique networking opportunity to develop a pool of mold professionals from whom they may draw resources for future or existing projects.
CLASS OVERVIEW
The NORMI CMR is a fully licensed and insured professional, trained to meet specific state requirements for licensure, has completed at least 24 hours of education in mold assessment and remediation techniques including assessment, mold, moisture, and respiratory protection (PPE). Based on a NORMI proctored examination, accepted by the multiple states for licensure, this experienced professional develops and follows industry standard protocols for either sanitization and remediation based on IICRC S500, IICRC S520, NYS Guidelines, EPA Standards, ASTM and NORMI Professional Practices.
SCHEDULE
DAY ONE
Introduction of Instructors & Class Members The opening period is devoted to a brief discussion of the trainer's backgrounds, field experience, objectives, and logistical announcements along with a discussion of the certification process.
Mold and the Media A overview of the media "hype" surrounding mold, licensing laws and the role certifying agencies are playing in pending and future mold licensing legislation.
Mold Fundamentals This discussion centers on the physical make-up of this biological organism and how it fits under the umbrella of indoor air quality contaminants. The student is trained in understanding the differences between viable and non-viable mold and its effects on the environment.
Moisture Challenges Moisture is a key factor in controlling mold growth so this section is devoted to a discussion regarding moisture control, the five rules of moisture movement, and the Psychrometric fundamentals in efforts to control both temperature and relative humidity in indoor environments.
Mold Standards-Guidelines & Publications New York City Guidelines, EPA Recommendations, IICRC 500-520, and NADCA suggestions are discussed in an effort to sort out the similarities and differences in each. In the absence of a national "standard", these become the standard for mold sanitization and remediation projects to protect mold industry professionals from potential litigation.
Understanding the Remediation Process Understanding the remediation process makes developing a scope of work and remediation protocol easier. This section takes the project from gross demolition to rebuild and discusses the details of each aspect of the remediation project within the context of industry standards.
HVAC & Filtration/Purification Developing a good indoor air quality maintenance program is imperative to maintaining good indoor air quality so in this section we discuss the difference parts of the HVAC system, air filtration and purification to better understand their impact on indoor air quality issues.
Health Concerns Several videos are discussed as they relate to and document health issues connected to mold. Real clinical research is contrasted with media hype to sort out the truth about the effects of mold in our indoor environments.
DAY TWO
The Investigation Process The assessment process is the important first step toward evaluating the need for a sanitization or remediation solution. The investigation always includes assessing the environment visually, collecting samples for laboratory analysis, and drawing conclusions. The investigation process ends with a well-written report and templates are discussed to facilitate the writing of those reports.
Licensing Laws and NORMI Professional Practices used as guidelines for "best practices"
Hazard Communication in regards to hazardous work conditions is an important aspect of the remediation protocol. This section outlines the potential dangers associated with poor communication in the workplace.
Case Studies Some of the most practical lessons are learned through the failures and successes of others. In this section, the student is helped with analyzing actual mold projects in an effort to identify problems and solutions in a practical way.
Pre-Test and Organization Review The student is introduced to the testing process required for certification and information regarding the certifying agencies and their benefits.Panel Discussion This is an opportunity for the students to discuss in detail any aspect of the class that need clarification. The teachers make themselves available in a panel discussion format for Q&A.
Web Access and Support The student completes an Attendance Voucher verifying his presence in the classroom along with an evaluation of the teacher(s) and the subjects discussed. This information is reviewed at a later date in an effort to "tweak" the class to make it as current and as relevant as possible. This kind of input from students is always an important part of the training process.
DAY THREE
Employee Safety (OSHA) Although mold is not considered a hazardous substance, health issues are sometimes related to exposures of higher levels of mold. For this reason, the CMA must consider safety measures that should be taken to protect the health of the occupants and the workers during a remediation project.
Definitions of Sanitization and Remediation The difference between these two techniques helps define the scope of work
Developing a Report Writing a legible, comprehensive report is a requirement for the protection of the NCMR and the client.
HANDS-ON Training – students will experience hands-on training which includes, but not limited to, 1) a single student will dress in full PPE in preparation for the mold remediation project, 2) all students will be involved in simulating a crawl space in which containment is constructed, negative pressure is established using an AFD converted to a NAM and the manometer is demonstrated, and 3) two walls will be constructed to simulate limited and full containment with a decon chamber, negative air machine installation, fresh air makeup and a demonstration of the AFD converted to air scrubbing with distribution tail connected to the PRV24K to expedite the PRV process. ALL students will participate in this instruction as part of their final grade.
Review Testing process Proctored testing is discussed and the student is informed of the entire certification processes.
Students taking this course may choose to sit for the Florida MRSR proctored examination which is NOT included in the price of this course. If you desire to take the examination (with or without having taken this course), please schedule that examination here.
WHAT'S INCLUDED?
Each student will receive a NORMI CMACMR Student Manual which includes, but not limited to, all power point slides, reference documentation, applicable state licensing law, NORMI Professional Standards and definitions/acronyms.
Module 1 – Introduction, Code of Ethics & Definitions – covers the areas of professional ethics and industry unique language.
Module 2 – Mold Basics & Health Concerns – how molds grow, mycotoxins, allergic reactions, SBS, comfort and other IAQ concerns of asbestos and lead. This segment will also consider the causes and conditions for mold proliferation in indoor environments.
Module 3 – Industry Guidelines & Laws – introduction to, and discussion of, IICRC, NYCDOH, OSHA, EPA and NY State Mold Licensing Law
Module 4 – NORMI Professional Practices – industry and NORMI standard of practice and legal obligations for meeting insurance criteria.
Module 5 – Moisture Challenges – assessment of moisture intrusion events, how they occur and how they are resolved with or without remediation techniques.
Module 6 – Controlling Moisture in Buildings – a study of the building sciences that include discussions of moisture diffusion and transport, building assemblies and relative humidity.
Module 7 – Heating, Ventilation & Air Conditioning – detailed discussion of building sciences, basics of HVAC systems, inspection and assessment.
Module 8 – IAQ/Mold Assessment Process – interviewing occupants and questionnaire to complete a thorough assessment and develop a solutions protocol for sanitization or remediation. This includes the writing of protocol and mold management plans.
Module 9 – Mold Sampling Process & Equipment – hands on and practical discussion of testing equipment and the sampling processes to make a comprehensive evaluation of the current conditions of the indoor environment. Biological sampling strategies.
Module 10 – Detecting Moisture w/IR Thermography – utilizing of moisture detection techniques which include moisture mapping, moisture content testing and infrared thermography.
Module 11 – PPE, Respiratory Protection & Safety – practical discussion and hands on donning and doffing of PPE, including respiratory protection, as well as training in hazcom.
Module 12 – Successful Mold Remediation Process – checklist approach to completing a successful mold remediation process to meet the mold protocol and prepare for Post-Remediation Clearance procedures. Hands on to include building containment, establishing negative pressure and pre-Post-Remediation Clearance Procedures.
Module 13 – IAQ Basics 101 – discussion of solutions implemented for ensuring the ongoing management of the indoor environment.
Module 14 – Addenda including Class Paperwork – definitions, acronyms and practical group discussion of case studies and backup documentation, including reporting.
TRAINERS
D. Douglas Hoffman
Lance Eisen
Timothy Butler