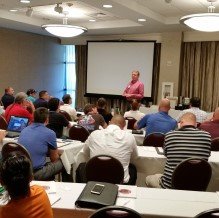 The NORMI Certified Microbial Inspector (NCMI™) is a trained IAQ professional who understands the value of improving the indoor environment by utilizing pre and post testing to offer IAQ solutions to the client. By improving the indoor air environment and implementing the IAQ Management program, the clients will have a cleaner, safer and healthier indoor air environment.
"In many cases, probably upwards to 80% or more of the homes we are in, an IAQ/Mold Inspection is performed and remediation is unnecessary. Sanitization is less expensive, less invasive, and less destructive to the home/office. Once the Certified Microbial Inspector determines the extent of the IAQ/Mold problems, he may legitimately suggest this protocol and assist his client in expediting the solution. By partnering with the homeowner to establish a lifestyle that substantially reduces the possibility of proliferating microbial problems in both the air and on surfaces, a cleaner, safer and healthier environment is established and maintained for the homeowner and his family."
D. Douglas Hoffman, Executive Director of NORMI.org
Take advantage of this opportunity to "build a business by helping people" and get your NORMI Certified Microbial Inspector (NCMI™) today.
Come spend eight enlightening hours and increase your opportunity to build a successful business around this entry level IAQ course!
* * * * View Schedule & Register * * * *
ONSITE COURSES
---
LIVE ONLINE COURSES
COURSE OVERVIEW
This is an entry level course to introduce the new IAQ inspector to the industry and may not be used for state licensure.
The NORMI™ Certified Microbial Inspector will
learn the FIVE ACCEPTED TESTING TECHNIQUES that are used as the standard for developing an accurate evaluation of the indoor air quality of an environment
learn how to use the ASSESSMENT INTERVIEW PROCESS to develop a clear and concise IAQ Profile for determining a solution protocol
learn how to write the SANITIZATION PROTOCOL by understanding how to differentiate between "Sanitization" and "Remediation" so the consumer can be correctly directed toward the proper solution to their Indoor Air Quality issues. When sanitization is preferred, the inspector may, at his discretion, offer solutions to avoid the possible future of a more costly remediation process
This class teaches entrepreneurs how to BE IN BUSINESS THE VERY NEXT DAY so this is a fast-paced intensive training program for the aggressive professional. As a NORMI™ Certified Microbial Inspector, you will be armed with every tool you need to succeed.
COURSE OUTLINE
MORNING SESSION
The Industry/Problem/Solutions for IAQ Problems (It is a HUGE market, everywhere!)
IAQ Overview of Entire Class (What we WILL and WON'T be doing)
The Sanitization Industry as our niche (You have 100% of the market available to you)
AFTERNOON SESSION
The Briefcase (Tools of the Trade)
IAQ Assessment and Testing Techniques (How To)

Swab for Mold/Bacteria
Air-O-Cell Testing
Tape List Testing
VOC/mVOC sampling
Moisture Meter Readings
Laboratory Reports
NORMI Professional Practices Evaluation (To help with your solution)

Proposals/Reports/Interpretation/Ethics

Interpretation of Inspection (Developing the IAQ Profile)
Proposals for Solution (Sanitization or Remediation)

Contract for Work (Avoiding Liability Concerns)
Post Remediation Testing (Clearance Testing results in more sales!)
The NORMI Code of Ethics