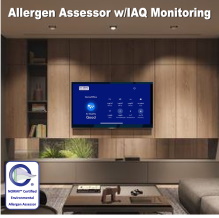 This course is designed to provide the IAQ Professional with a credible path toward helping clients with allergic reactions they may be facing in indoor environments. Utilizing the AirAnswers sampling device, this course provides a certified lab report to the client who can then give this report to their doctor.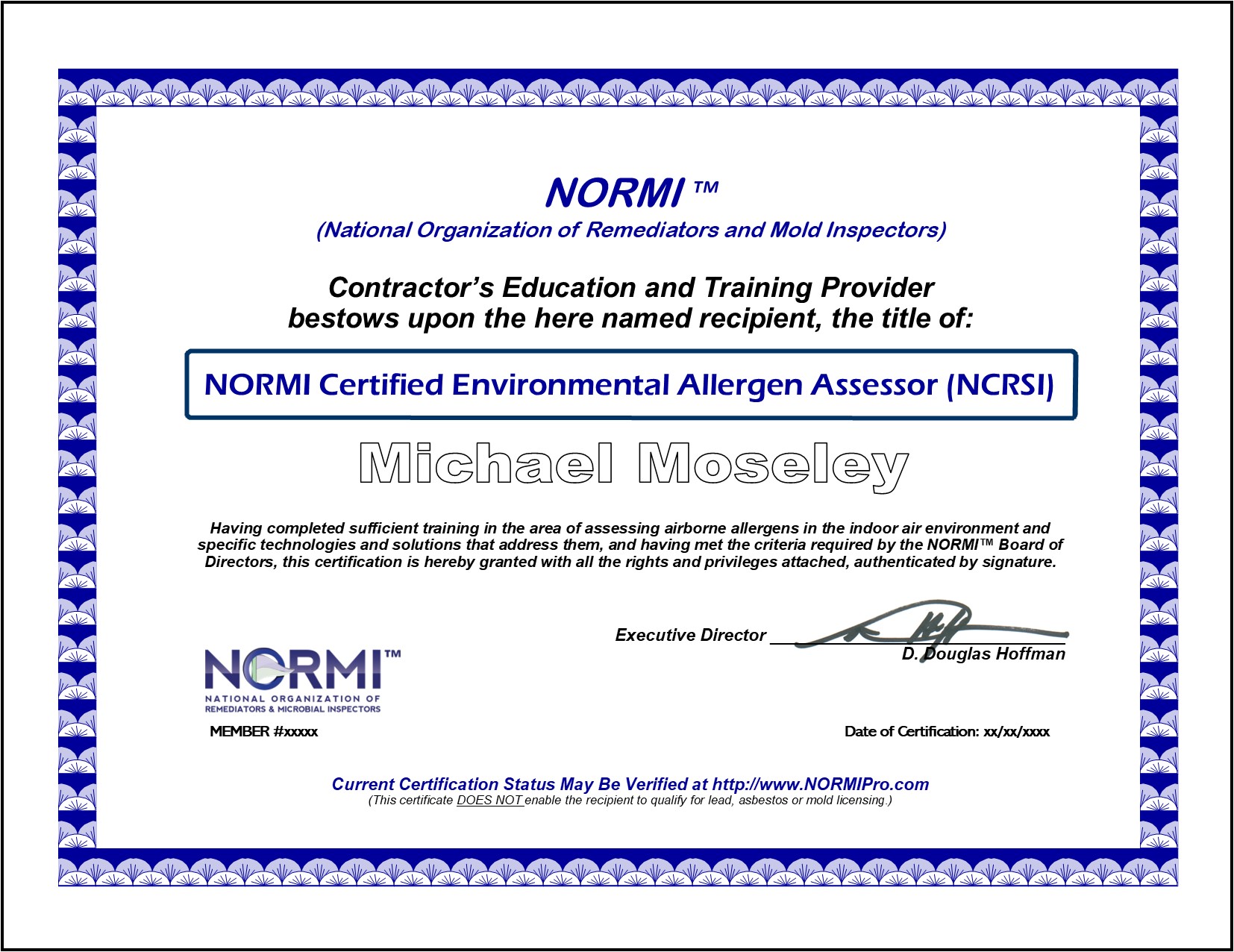 Working in conjunction with AirAnswers and GreenTech Environmental, this course was designed as a unique, trademarked certification to train IAQ professionals in the sampling process for airborne mycotoxins, allergens and mold beta glucan. Never before has there been such a comprehensive program designed as an entry level course for professionals interested in offering evaluation to solution services.
* * * * View Schedule & Register * * * *
ONSITE COURSES
---
LIVE ONLINE COURSES
Who should take this class?
IAQ/Mold Assessors
Facility Maintenance Managers
General Contractors
Home Inspectors
Industrial Hygienists
Course Delivery
This course is delivered in onsite, online and LIVE Simulcast Webinar formats. Course materials include a manual which provides all of the slides and documents need to pass the proctored examination.
Hotel Information:
Tampa/St. Pete, FL, location: NORMI has arranged a special discounted rate for students by contacting Katherine Norena (mention NORMI) at 954.724.7115. The Hampton Inn & Suites is located three blocks from the NORMIPro Academy. The Hampton Inn & Suites address is 5701 Madison Avenue, Tamarac, FL 33321, which is at the corner of Sawgrass Expressway and Commercial Blvd (Hwy 870).
Ft. Lauderdale, FL, location: The discounted NORMI hotel rate at the Bilmar Beach Resort is available for conference participants by calling the reservations center at 727-360-5531 x 779 and mentioning NORMI.
Course Outline
COURSE OBJECTIVE:
This course is designed to enable the NORMI IAQ/Mold professional to offer the service of, either remotely or onsite, quantifying the level, type and genera of allergens and airborne mycotoxins in indoor environments then provide a certified lab report of the findings to the medical professional who may be evaluating the occupants physical health.
TOPICS COVERED:
1. Introduction
NORMI™, the 501(6)(c) Trade association
Florida CEU Requirements (MRS Board)
Discovering Your Student Manual
Preparation for the Review and Quiz
2. The IAQ Industry
Need to Assess Environments
Assess, Define, Develop Solutions
The Carter Days
3. Health Concerns
Dr. Rapp (Pediatric Concerns)
Avoid Medical Claims
4. Contracts/Agreements
Contract Required
Protection from Liability (Insurance)
5. Sampling Strategies
Review Causes, Conditions
Goal of the Process
Wholistic View of Building Envelope
6. Defining IAQ Problems
Top 40 Indoor Air Contaminants
Seven Components of IAQ
Define by Problem
Define by Area
7. Sampling Processes
AirAnswers®
Mycotoxins, Beta Glucan & Pollen
8. Allergen Solutions
Air Filtration/Purification
Green Chemistries
Lifestyle Changes
9. Monitoring IAQ
uHoo® Air Monitoring
iQi® Air Monitoring
Annual Testing
NORMI™ Healthier Home Warranty