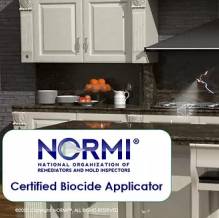 When addressing IAQ problems, SURFACE contamination must also be considered. There are some very good IAQ solutions (many for which we do training) that are extremely pro-active in their approach to solve indoor air quality problems, however, surface contamination is so prolific, in most cases, air purification cannot keep up with the contamination. Contact transmission is one of the most common reasons for the spread of bacteria, viruses, and their subsequent illnesses so in every environment, surface cleaning and protecting is equally important to air purification.
As a CBA you will learn to apply approved, green technology, safe and proven anti-microbials, protectants, encapsulates, biocides, and other chemicals for the prevention and control of surface microbes including mold, bacteria, and algae. Having the ability to offer long-term warranties for such contaminants is an added benefit to build your business around this certification.
This class designed to train you in a better understanding of surface contaminants and the problems with current commonly used but less effective products. "Bleach does not kill mold" so true biocides need to be understood and promoted for effectively killing mold and mildew. Many of these well-known products set up a chemical environment that allows microbes to mutate and become "superbugs" and we train the student to understand why it is important to use products that are mechanical kill products instead of chemically leaching products. This fits well with our desire to use environmentally safe and effective technologies and we encourage you to do the same whenever possible.
* * * * View Schedule & Register * * * *
ONSITE COURSES
---
ONLINE COURSE
The online class follows the same schedule as the ONSITE class and is also under the direction of a NORMI Senior Trainer. It utilizes an interactive audio and visual Internet experience as it leads you through this LIVE training. This class is best experienced with a computer that has a high-speed connection capability and you will need a computer headset with microphone and earpiece so you can respond to and ask questions. Pre-registration is required.
NORMI™ CERTIFIED BIOCIDE APPLICATOR (CBA) Online Course (14 days) $349.00 (Exam fee $100)
---
LIVE ONLINE COURSES
Class Outline
Purpose of the CBA
    a. Goals for the Class
    b. Vision for your Business utilizing CBA
NORMI/Industry Specific Terms
    a. What are "superbugs"?
    b. What is the "incremental approach"?
    c. What is "anionic and cationic"?
Existing/New Technologies to Deal with Microbes on Surfaces
    a. Phenols, Quarternaries, Anti-Microbials
    b. Restricted Used versus Ready-to-Use
The Power of Green Technologies
Contact Transmission and "Touchpoints"
    a. Evaluating the Environment
    b. Scheduled Applications
Labeling Guidelines
Application Techniques and Equipment
    a. Coverage
    b. Calculating/Estimating
Building a Business Model
Website Resources and Quiz
NORMI™ Certificate Of Sanitization
The Certificate of Sanitization and ongoing Warranty Program utilizing NORMI Approved anti-microbials, protectants, encapsulates, and such like are grounded in the application by trained professionals. This certification will give you the tools you need to succeed.
Supplemental Opportunities
Included in this training program are supplemental business opportunities including the OnGuard Mold Guarantee and the Clorox T360 Application training module. These programs provide lead sourcing opportunities along with a Protocol Specific NORMI Certificate of Sanitization designed for those trained in these areas.