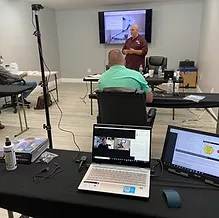 "Many of our classes qualify for continuing education for a variety of state licenses and organizations. IICRC, for instance, issues credit for most of our classes as do many of the states for their contractor licenses (Home Inspectors, General Contractors, HVAC Contractors, etc.). If we haven't specifically identified an entity where these classes might receive credits, please don't assume they won't. Many of our members have taken documentation from a NORMI course and received CEUs, REs or CECs with organizations of which we've never heard."
Doug Hoffman, Executive Director of NORMI
Many of these classes are offered at NO CHARGE to active members. When offered at no charge, these courses are provided through a LIVE ONLINE format in their regularly scheduled Tuesday night training. All other offerings have associated fees to cover materials, logistics and trainer costs. For more detailed information, contact NORMI at 877.251.2296 or email support@normi.org
These classes, approved by the State of Florida Mold Related Services Board are provided under the PVDR2 #0003605 approved provider number but the individual course numbers are provided at each class because different numbers are given for different formats. In this case, the numbers provided here, where identified, are given as ONSITE course numbers. LIVE ONLINE formats are given a different approval number.
NORMI (National Organization of Remediators and Mold Inspector www.NORMI.org) has been approved as a training provider for the State of Florida MRS Board (Provider #0003605) to offer continuing education courses approved for license renewal. When a course is listed here it has been approved for continuing education credits in accordance with Rule 61G6-9.012(3), Florida Administrative Code.
Once completing the course, NORMI automatically submits your attendance record to the State of Florida through its online reporting portal – there is nothing further for you to do except attend.
To verify the number hours through the State of Florida:
VISIT the Florida DBPR Website
For "Requirement" SELECT Report Writing (or any of the four requirements)
For "Course Type" SELECT Classroom
For "Provider Name" TYPE NORMI
CLICK "Search"
When you receive results CLICK ON "Provider Information" INFO button and see the details of the class, including ALL 14 CEU hours it includes.
CLASSES THAT QUALIfY FOR CE CREDITS
Click the buttons below to register for onsite or online classes.