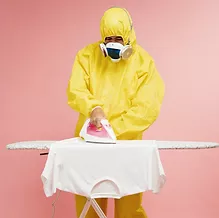 The NCRSI™ is a two-day advanced assessor remediator course that trains the mold professional on a remediation protocol specifically designed to better meet the needs of sensitized occupants and high-risk individuals. The course is offered through NORMI with the primary instruction provided by Wonder Makers Environmental.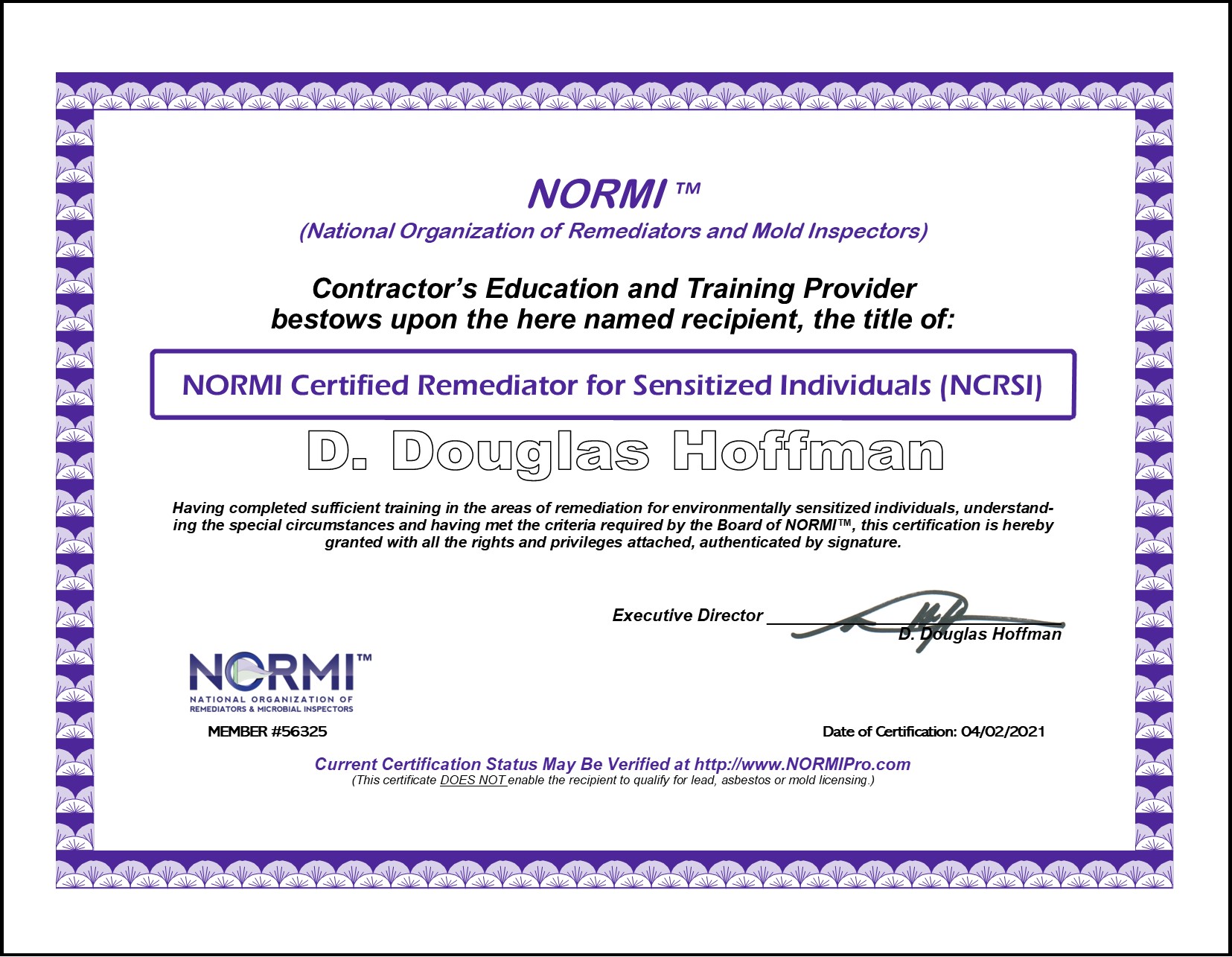 This course provides 14 CEUs for the Florida MRS License, course #302, and CEs toward any IICRC certification.
Although substantial progress has been made in the last two decades in developing appropriate procedures, industry guidelines, and even regulations regarding mold remediation; most of those efforts have been directed toward remediation that produces an environment that is safe for typical occupants. However, experience has shown that such "standard" remediation projects, even when done in full compliance with the current industry standard of care, often are not enough to create a safe environment for individuals who have become sensitized to mold.
* * * * View Schedule & Register * * * *
ONSITE COURSES
---
LIVE ONLINE COURSES
The current medical data explains that the percentage of the population with a genetic predisposition to mild mold sensitivity is nearly 20%. Of that group, 1-3% can develop a much more severe sensitivity to mold exposure. Often the trigger to real health problems is a poor mold remediation project. Once the sensitization has occurred the first step in assisting the ill individual is to stop dismissing their concerns as bogus. This class is for assessors and contractors who want to understand the specific steps necessary to evaluate and correct mold problems that bedevil sensitized individuals.
The NCRSI™ class is offered through NORMI with the primary instruction provided by Wonder Makers Environmental. This combination means that the certification provided to successful class participants meets the qualifications of the state of Florida for continuing education credits for both mold assessors and remediators and carries the third-party credibility of a nationally recognized not-for-profit trade association, NORMI.
Who should take this class?
Mold Inspectors
Restoration Contractors
Cleaning Contractors
Content Specialists
Consulting Resources
Rebuild Contractors
HVAC Contractors
Medical Personnel
Building Assessors
Course Delivery
This course is delivered onsite and simulcast LIVE online in a fully interactive webinar format. Course materials include a manual that provides all of the slides and documents needed to pass the proctored examination.
NORMI Membership: The NORMI Certification process includes a proctored examination taken in an online format following the course and requires ACTIVE NORMI Membership at Click Here.
Hotel Information: NORMI has arranged a special discounted rate for students by contacting Katherine Norena (mention NORMI) at 954.724.7115. The Hampton Inn & Suites is located three blocks from the NORMIPro Academy. The Hampton Inn & Suites address is 5701 Madison Avenue, Tamarac, FL 33321, which is at the corner of Sawgrass Expressway and Commercial Blvd (Hwy 870).
Course Outline
COURSE OBJECTIVE:
Teaching mold professionals how to create a healthier environment to help the sensitized client to heal.
TOPICS COVERED:
Seeing the Big Picture
Connection between Medical and Environmental
Analytical Systems
End Points
Source Removal Procedures
Content Decontamination
Whole Structure Cleaning
HVAC Cleaning
Post Remediation Evaluation
Rebuild & Remodel
Putting It All Together
IT STARTS WITH AWARENESS:
The awareness that some occupants are sensitized to mold has led to the development of specialized practices and procedures for projects to assist individuals in this high-risk group. In the past, these specialized techniques were learned the hard way as contractors dealt in a trial-and- error approach to adapt regular remediation practices for their customers who were more susceptible than normal to mold, mycotoxins and other contaminants frequently found in water-damaged buildings.
WHY IS THERE A NEED FOR SPECIALIZED REMEDIATION?
One of the things that sets mold remediation apart from responding to water losses and fires is the medical component of many mold cases. Often, structural mold is not visible, which results in occupants unknowingly living or working in mold-infested environments. This can lead to the development of sensitivities to mold and other indoor contaminants.
TWO-DAY CERTIFICATION CLASS WITH CONTINUING EDUCATION CREDITS
In an effort to meet the needs of this market segment, NORMI (National Organization of Remediators and Mold Inspectors) is offering the two-day NCRSI™ class to assist contractors in helping meet the needs of mold-sensitized individuals. Partnering with Wonder Makers Environmental, NORMI is offering this specialized course in person at the NORMIPro Academy in Florida as well as via livestream.