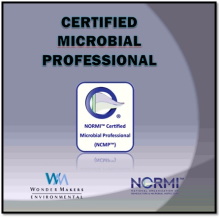 The NCMP represents the highest-level training available in the mold remediation industry. From its inception, it incorporated a number of features which set it apart from other offerings in the restoration industry. As it was prior to the rebranding, prerequisites to the NCMP require interested individuals to have successfully completed a mold remediation technician course and a mold remediation supervisor course (while these courses are also offered by Wonder Makers Environmental, the prerequisites can be obtained from a number of sources including NORMI, IICRC, Indoor Sciences, etc.). In addition to successfully completing the NCMP course, the completion of a capstone project is required of individuals who aspire to become a NORMI Certified Microbial Professional.
Wonder Makers is pleased to announce that the training that in the past led to designation as a Certified Mold Professional (CMP) is now being sponsored by the National Organization of Remediators and Microbial Inspectors (NORMI™). With this new partnership, the CMP will now be known as the NORMI Certified Microbial Professional (NCMP™). Existing Certified Mold Professionals will be able to migrate their certification to NCMP through a simple process.
SPECIAL NORMI DISCOUNT & PAYMENT OPTION AVAILABLE: Because of the current economic conditions, we are offering two options you may consider helpful to getting the training you need: 1) as an ACTIVE NORMI Member, there may be a COUPON CODE for this class that will significantly reduce the cost of this class. To retrieve this code, if it exists, login at www.NORMI.org and collect the code to insert in the field below or utilize the standard NORMI method as you were trained in class OR you can choose a second option: 2) A payment program has been established to spread the cost of this class over three months (30/60/90). To take advantage of this offer, you must FIRST PAY THE DEPOSIT BELOW to reserve your seat. If you DO NOT pay the deposit, you will not be on the student roster so DO THAT FIRST! AFTER you have paid the deposit, go to 30/60/90 Payment Plan to arrange for the auto-pay option for this class. You will be given thirty days to make your first payment against the balance. Please be advised that no Verification of Attendance or Certification will be provided until the balance is paid in full, but the balance DOES NOT need to be paid in full before the class takes place. We want you in class so, hopefully, this will make it easier for you to attend asap.
* * * * View Schedule & Register * * * *
ONSITE COURSES
---
LIVE ONLINE COURSES
Who should take this class?
Mold Inspectors
Mold Remediators
Restoration Contractors
Renovation Contractors
Remodeling Contractors
Cleaning Contractors
Rebuild Contractors
Course Delivery
This course is delivered both onsite and live online. Course materials include a manual that provides all of the slides and documents needed to pass the proctored examination.
Hotel Information: NORMI has arranged a special discounted rate for students by contacting Katherine Norena (mention NORMI) at 954.724.7115. The Hampton Inn & Suites is located three blocks from the NORMIPro Academy. The Hampton Inn & Suites address is 5701 Madison Avenue, Tamarac, FL 33321, which is at the corner of Sawgrass Expressway and Commercial Blvd (Hwy 870).
Course Outline
Section 1: Introduction – Capstone
Section 2: Overview Summary
Section 3a: ATCT Case Study – Work Scope
Section 3: Industry Update
Section 4: Health Effects
Section 5a: ATCT Case Study – PPE
Section 5: Advanced Information on Mold and Bacteria
Section 6: Dealing with Sensitized Individuals
Section 7a: ATCT Case Study – Isolation
Section 7: Equipment
Section 8a: ATCT Case Study – Engineering Controls
Section 8: Moisture Intrusion
Section 9a: ATCT Case Study – Work Procedures
Section 9: Remediation Procedures
Section 10: Content Cleaning
Section 11: Whole House Cleaning
Section 12: Rebuilding to Prevent Mold
Section 13: Chemical Usage During Remediation
Section 14a: ATCT Case Study – Evaluation
Section 14: Post Remediation Activities
Section 15: Sampling and Analytical
Section 16a: ATCT Case Study – Summary Estimate
Section 16: Data Interpretation
Section 17: Capstone Project – Idea Development
Section 18: Documentation
Section 19: Hydroxyl Radicals
Section 20: Review for Test
Section 21: ATCT Case Study
Section 25: A Personal Story